Wifi thermostats continually increase in popularity, and it's easy to see why! In today's connected society, almost everyone has access to the Internet at all times. This connectivity led to an explosion of devices controlled remotely, including the Wifi thermostat. This small investment decreases your energy use at home, making you more environmentally friendly, and in time will pay for itself.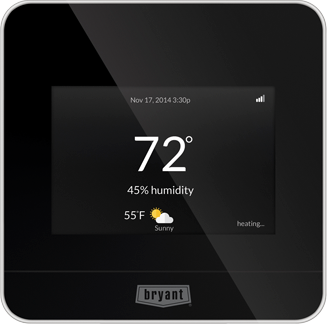 Your Wifi thermostat, or smart thermostats, comes with a state of the art, full-color touchscreen. This attractive screen promotes a user-friendly interface. Some argue that a programmable thermostat provides the same benefits, and they are right to a certain degree. However, most people find programmable thermostats difficult to navigate, never input their schedule, and receive little to no benefit. The user-friendly aspect of wifi thermostats ensures you fully utilize all features.
With its smart setback feature, your wifi thermostat will learn your personal preferences and automatically make adjustments as necessary. The software analyzes patterns in your daily and weekly habits and fine-tunes the temperature accordingly. Before long, it will remember that you stay away later on Wednesdays but come home early on Friday.
Designers realize local weather plays an important part in temperature control and built in a four-day local forecast screen. This display allows you to keep in mind the outside conditions when programming for the day. Perhaps it will be raining, so the house should be warmer when you come in dripping wet.
In addition to making changes via the Internet, wifi thermostats allow for detailed energy use reports. Information is collected from your unit, analyzed, and produced into an easy to read the report. You can use this information to adjust your daily habits to maximize energy efficiency.
Tips to save energy
You will also receive monthly tips on how to increase your energy efficiency based on the data collected. These tips suggest ways to decrease energy use when not at home when to increase the temperature and the optimal time to reset before you come home. Perfect Humidity technology is also included with your wifi thermostat. This technology allows you to maintain optimal cooling conditions based on the relative humidity in your area. Humidity greatly affects how cool your home feels. Seventy-five degrees in zero percent humidity feels much cooler than seventy-five degrees in one-hundred percent humidity!
Several different modes of programming allow you to set up profiles to match your current lifestyle. Use seven-day wide awake programming to actively control the temperature all day. The most commonly used mode, home-sleep, set temperatures for when someone stays at home and when you sleep. Vacation programming enables you to set a return time and temperature.
More control over your temperature
Wifi remote access capabilities allow you to control every aspect of your thermostat from anywhere with an Internet connection. If you remember an appointment after work, you can extend the time you are away from home.
Not only does your wifi thermostat give you complete control, but it also reminds you of important air conditioning and heating maintenance. No more forgetting to change the filter or have the unit serviced. You can also receive alerts for high or low humidity and temperature.
Compatible with humidifiers, dehumidifiers, and ventilators, wifi thermostats can help you control every aspect of the climate in your home with one device. No matter the typical weather where you live, wifi thermostats can lower your energy costs with by regulating several devices.
Hybrid Heat systems can also be managed with your wifi thermostat. This relatively new technology enables you to utilize both gas and electricity to heat your home in the most cost-effective way. Combine with your wifi thermostat to boost savings! Eliminate the need to change between heat and cool with the wifi thermostat, it switches for you! Many cool mornings turn into warm days. If you leave the heat on with traditional thermostats, you may come home to a surprisingly warm house, but not with a wifi thermostat.
Your wifi thermostat also comes with a five-year parts limited warranty with timely registration. Make sure to register your unit to ensure continued functionality. While your system should function properly for years to come, this warranty gives you peace of mind with your investment.
Bottom line
Wifi thermostats greatly increase your energy efficiency and decrease the annual cost to maintain your home climate. They are quickly making traditional and programmable thermostats obsolete and greatly increase the resale value of your home. This small investment pays off not only as you live in the home but if you decide to sell. With exceptional after-sale service, they can't be beat. Call or Text us today for more details (941) 203-7955 and don't forget to check out our specials, financing, and rent-to-own air conditioning options. Stay Cool with Mahle!